"Unleashing the Power of Electronic Shelf Labels: A Game-Changer for Retailers in the Digital Era"
Get ready to revolutionize your retail business with the must-have technology of electronic shelf labels (ESLs). In this blog post, we dive deep into the world of ESLs and their pivotal role in the ongoing digitalization of the retail sector. Discover how ESLs can transform your operations, streamline inventory management, and enhance the overall customer experience. Say goodbye to manual price labelling and embrace the future of retail with ESLs.
Streamlining Inventory Management with ESLs: Experience the power of ESLs in optimizing inventory management. Say farewell to tedious manual updates and embrace the efficiency of real-time inventory tracking. ESLs provide accurate stock information, reduce out-of-stock situations, and enable swift replenishment cycles. With ESLs, you can keep your shelves stocked, streamline operations, and ensure seamless customer experiences.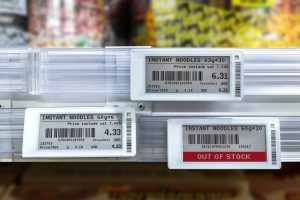 Smart retail digital store technology concept.Electronic Shelf Label(ESL) led for automatically updated displaying product pricing on shelves for retail business. Price is change from control service.
Enhancing Pricing Accuracy and Agility: Bid farewell to price tag mishaps and embrace the dynamic pricing capabilities of ESLs. The benefits of ESLs in enabling flexible pricing strategies, targeted promotions, and instant price adjustments help to make this the best choice for retailers moving forward. With ESLs, you can respond swiftly to market changes, run promotional campaigns effortlessly, and maximize your profitability.
Elevating the Customer Experience with ESLs: Experience the transformation of the customer journey with ESLs. ESLs provide customers with clear and consistent pricing information, product details, and personalized offers. Discover how ESLs empower your customers to make informed decisions, enhance engagement, and foster long-lasting loyalty. Gilles Gagnier, Deputy Director General of Pricer France, highlights the ability of ESLs to provide shoppers with accurate and consistent pricing information: "ESLs empower customers to make informed purchasing decisions, fostering trust and loyalty." I am currently in France, and there are numerous retail outlets currently using this technology.
Overcoming Implementation Challenges and Maximizing ROI: From initial investment costs to integration with existing systems, we guide you through the process of adopting ESL technology seamlessly. Unlock the potential of ESLs by understanding best practices, employee training, and ensuring a smooth transition to this game-changing technology.
As Gilles Gagnier aptly puts it, "ESLs are no longer a luxury, but a necessity for retailers in the digital age." Embrace the digital era in retail and unlock the true potential of electronic shelf labels. With streamlined inventory management, enhanced pricing accuracy, and an elevated customer experience, ESLs are a game-changer for retailers. Embrace the future, drive profitability, and stay ahead of the competition with ESLs as your trusted retail companion.
Contact us now to find out how we can integrate ESLs into your business. info@elabels.au