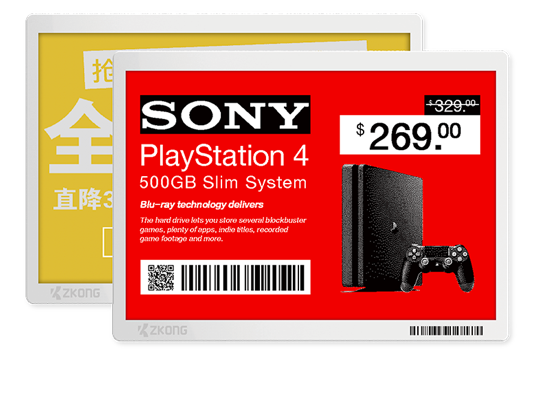 Elabels is an Australian-owned company that was formed as a result of extensive research and investigation into the changing nature of retail and warehouse technology as we move into the future. Electronic Shelf Labels Victoria (ESL Victoria) are the way of the future for retailers and warehousers.Welcome to eLabels.au, your one-stop shop for the latest in Electronic Shelf Labels (ESLs) technology in Victoria. Our innovative ESLs offer a cost-effective and efficient solution for retailers to manage their products effectively, improve their store operations, and enhance their customers' experience.
Our ESLs are designed to provide real-time price updates, accurate inventory management, and increased operational efficiency. With our ESL technology, retailers in Victoria can reduce labor costs associated with manual price labeling, improve pricing accuracy, and provide their customers with a better shopping experience.
At eLabels.au, we offer a wide range of ESLs suitable for different retail environments. Our ESLs are available in a variety of sizes and designs, making them suitable for supermarkets, pharmacies, and other retail stores. Our ESLs are also compatible with different communication protocols, allowing them to integrate seamlessly with existing retail systems.
Our ESL technology offers several advantages over traditional paper-based labels, including the ability to update pricing and information in real-time, reduced labor costs, and improved pricing accuracy. Our ESLs are also eco-friendly, reducing the amount of paper waste generated by traditional paper-based labels.
At eLabels.au, we are committed to providing our customers with the latest in ESL technology. Our team of experts can provide advice and guidance on the best ESLs for your retail environment, ensuring that you get the most out of our ESL technology. We also offer installation and maintenance services, ensuring that your ESLs are installed correctly and maintained to the highest standards.
If you are looking for innovative and cost-effective ESL solutions for your retail store in Victoria, look no further than eLabels.au. Contact us today to learn more about our ESL technology and how it can benefit your business.

Not having to print and place shelf labels saves time and money.

Opportunities for smart advertising using an automated and digital system.

Consumer shopping navigation via our custom-built mobile apps.

QR codes and our mobile app allow for consumer interaction.