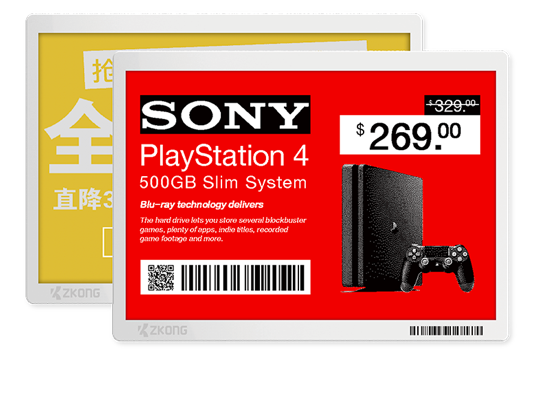 Electronic Shelf Labels in Tasmania
Electronic Shelf Labels (ESLs) are a game-changer for the retail industry. They allow store owners to manage their pricing and inventory in real-time, improving efficiency and accuracy. At Elabels, we offer a range of electronic shelf labels for businesses of all sizes in Tasmania.
Benefits of Electronic Shelf Labels
ESLs provide a host of benefits to businesses, including the ability to make real-time updates to product prices. This is especially important in today's competitive retail environment, where prices can fluctuate rapidly. With ESLs, you can easily adjust your prices to stay ahead of the competition and attract customers.
ESLs also eliminate the need for manual price changes, saving you time and resources. Your staff can focus on other important tasks, such as customer service and inventory management, instead of spending hours updating prices.
In addition, ESLs can improve the customer experience by providing accurate and consistent pricing information. This helps to build trust and loyalty with your customers, as they can be assured that they are getting the best deal possible.
Why Choose Elabels for your Electronic Shelf Labels
At Elabels, we pride ourselves on providing high-quality electronic shelf labels that are easy to install and use. Our ESLs come with a user-friendly interface that allows you to manage your pricing and inventory with ease.
We also offer ongoing support and maintenance services to ensure that your ESLs are always up-to-date and functioning at their best. Our team of experts will work with you to design a custom solution that meets your specific requirements and budget.
Contact Us Today
If you're looking for reliable and high-quality electronic shelf labels in Tasmania, look no further than Elabels. Contact us today to learn more about our ESLs and how they can help your business stay ahead of the competition. With our ESLs, you can improve your pricing accuracy, efficiency, and customer satisfaction, giving you a competitive edge in the retail industry.

Not having to print and place shelf labels saves time and money.

Opportunities for smart advertising using an automated and digital system.

Consumer shopping navigation via our custom-built mobile apps.

QR codes and our mobile app allow for consumer interaction.