7 Main Benefits of Electronic Shelf Labels
What are the main benefits of Shelf Labels (ESLs)?
The most obvious is the ability to change prices automatically and in numerous locations remotely. You can update new prices and promotional offers to all products in-store (and many stores), at the one time, from wherever you are (home, head office or on holiday). This is truly a game changer when you consider the time and cost required to manually print and replace all the price labels you have changed (this definitely adds up over time!)
The benefits of changing the prices digitally in a retail business cascade from there. Another benefit that electronic shelf labels (or digital price tags), have is other features, like LED lights. This capability allows you do many extra things over and above a printed price tag –
flashing lights for specials;
The lights can flash in click and collect scenarios;
They can alert staff to out of stock scenarios; and
The list goes on.
The below infographic identifies how the 7 main benefits of electronic shelf labels help you save and make money.
1. REDUCED LABOUR
Prices are changed digitally with no requirement for assistance from staff at the store.
Order picking and restocking can be implemented quicker, using flashing LED lights on the labels to guide staff to the correct products.
2. PRODUCT MARKETING
Showing ratings and reviews on the label screen increases sales conversions in-store.
QR codes direct customers to product specs, user guides and product comparisons.
QR codes can also enable online functions like 'Loyalty Clubs', or saving a product to your wishlist, to review and purchase later.
3. MARGIN OPTIMISATION
ESLs allow you to employ an agile pricing strategy, where prices on all products can be changed as frequently as required. This keeps margins consistent against fluctuations in currencies and wholesale price changes.
Automated price-drops for perishable items, such as bread, help optimise sales.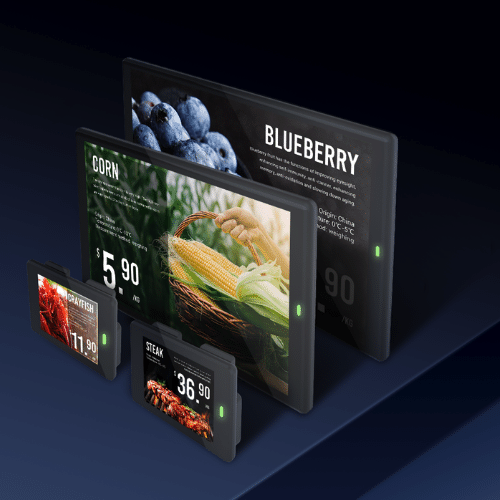 4. PROMOTIONS
You can run more promotions with agile pricing. You can even counter competitor promotions within minutes.
Never miss a brand promotion because you can't execute the offer.
Tailored promotions delivered in the store shelves based on purchasing data.
5. CUSTOMER EXPERIENCE
QR codes give customers access to more product information, special offers, and more. Creating an innovative and functional in-store experience.
Wayfinding can be used to guide customers to products.
Staff are freed up to spend more time with customers.
6. ACCURACY
Backend data is synchronised with the stock on the shelf, so that product prices are always accurate. This is managed via the software system integration and runs seamlessly.
No more manual pricing errors.
A true omni-channel strategy can be achieved between the instore and online pricing.
Reporting shows label status updates and other statistics for head office reporting.
7. EFFICIENCY
Staff-facing screens show backend data at the shelf edge.
LED flashing lights on the label screens assist staff in, restocking, installing promo signage and Click & Collect order picking.
Electronic shelf labels are an energy-saving solution, environmentally friendly and economical.